Corporate: LNP/ICI America
Oaklands Corporate Center
Exton, PA
New Construction
Corporate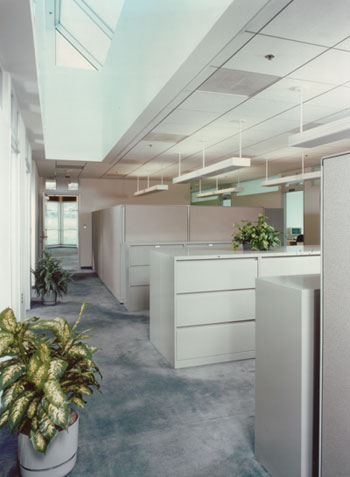 A subsidiary of ICI America, this research and development corporate headquarters was designed by Paul M. Elia, AIA while at another Architectural and Interiors firm.
His responsibilities began in the programming phase for this new 20,000 square foot facility that included both indoor and outdoor dining facilities, research laboratories and a high bay testing lab. Mr. Elia was responsible for the design, documentation and construction observation of the base building and interiors.
An unusual programming requirement required a public tour route to be developed to showcase their research and their product lines without revealing too much about the materials or the process as their clients were also their competition.
Materials used in this building included an exterior palette of low E glass with a light green tint, architectural pre-cast concrete panels and Ubatuba granite. This same granite was used throughout the interiors with maple paneling and terrazzo flooring.
3125 West Queen Lane
Philadelphia, PA 19129
ELIA-Architecture.com